Gallon Drunk -
In the Long Still Night
1996
(Re-Up)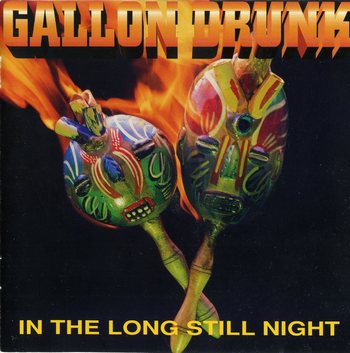 Исполнитель
: Gallon Drunk
Альбом
: In the Long Still Night
Информация:
Ⓟ & © 1996 City Slang Maracas portraits by: Bleddyn Butcher.
Live Photos by: Steve Gullick.
Sleeve: James Johnston/Third Planet Inc.
Made In Germany
Label
: City Slang
Catalog #
: EFA0 4982-2 / LC 6853
Год
: 1996
Формат
: FLAC (.cue + Log) AccurateRip
Качество
: lossless
Cover
: JPG 300dpi, Full scan
Время звучания
: 00:49:46
♪
♪
♪
♪
♪
♪
♪
♪
♪
♪
♪
♪
♪
♪
♪
♪
♪
allmusic.com - Review
After From the Heart of Town, Gallon Drunk essentially disappeared for some years while working on other projects, including James Johnston's touring work with Nick Cave. In the Long Still Night brought the group back to action in 1996, with a reworked lineup -- Max Decharne left to concentrate on his own work, with Terry Edwards and his wide-ranging abilities now in full participation on organ, trumpet, guitar and more. Ian White took over Decharne's drum spot, Mike Delanian and Joe Byfield kept things going as always, and with other guest help here and there, notably Ian Watson on various instruments, Gallon Drunk kept on keeping on and then some. The band's sound is notably a little crisper and less overtly distorted than before, while Johnston's singing is some of the most clearest he's yet recorded (check out his amazing performance on the anthemic title track, one of the band's best ever songs). It all feels much more confident than before, like the group feels less need to hide behind noise, but without coming across as any less intense. If anything, Edwards' horns take up the slack and punch things up to a higher level, and brilliantly so -- check out the frenetic instrumental "The Big Payoff" -- while slyer numbers like "The Road Ahead" snake along with lower-key but still present threat. "Two Clear Eyes" starts everything off with a fiery roar, with Johnston whipping out a fierce guitar solo to boot, and from there it's another raunchy rampage into dark streets slick with rain and neon lights and even darker pubs slick with sweat and blood. There's a great song about Johnston's girlfriend, "Geraldine," a haunting ballad at once pretty and doom-laden with a strong, heavy-hitting coda, as well as an amazing version of the Bee Gees' "To Love Somebody." Even semi-industrial beats appear on songs like "Up on Fire," but anyone who appreciates Jim "Foetus" Thirwell can hear where he and Gallon Drunk share obvious inspirations.
♪
♪
♪
♪
♪
♪
♪
♪
♪
♪
♪
♪
♪
♪
♪
♪
♪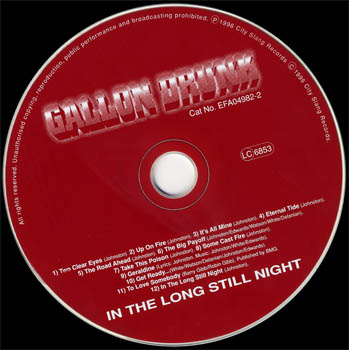 Треклист:
1. Two Clear Eyes
♪
2. Up On Fire
♪
3. It's All Mine
4. Eternal Tide
♪
5. Road Ahead
♪
6. Big Payoff
7. Take This Poison
♪
8. Some Cast Fire
♪
9. Geraldine
♪
10. Get Ready...
11. To Love Somebody
♪
12. In The Long Still Night