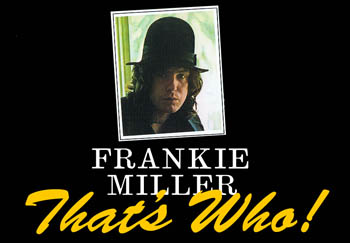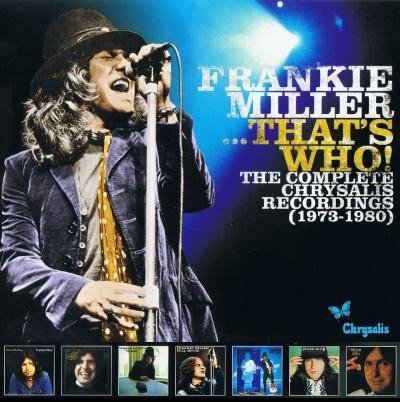 Frankie Miller: That's Who!
•
The complete Chrysalis recordings 4CD Box Set
•
Исполнитель
: Frankie Miller
Box
: That's Who!
The complete Chrysalis recordings
(4CD Box Set 1973-1980)
Информация
:
Digital Remasters Ⓟ & © The Copyright
in This Compilation is Owned by Chrystal Recording Ltd.
This Label Copy Information is Subject to Copyring Protection.
All Rights Reserved. © 2011 EMI Records Ltd.
Release Date
: May 10, 2011
Made in the EU
.
•
"Once In A Blue Moon" (1973)
•
"High Life" (1974)
•
"The Rock" (1975)
•
"Full House" (1977)
•
"Double Trouble" (1978)
•
"Falling In Love" (UK)
•
"A Perfect Fit" (US) (1979)
•
"Easy Money" (1980)
Жанр
: Pub Rock
Формат
: APE(.cue + .log)
Качество
: lossless
Covers
: JPEG 600 dpi, Full Scan
• • • • • • • • • • • • • • • • • • • • • • • • • • • • • • • •
На этом бокс-сэте собраны все семь альбомов (Digitally Remastered 2011) британского представителя паб-рока шотланского происхождения Фрэнки Миллера, периода работы на CHRYSALIS RECORDS. В добавку к этому вы познакомитесь с альтернативным вариантом альбома "High Life" и несколькими ранее не опубликованными песнями.
• • • • • • • • • • • • • • • • • • • • • • • • • • • • • • • •
Most Frankie Miller fans have despaired of seeing their hero's output on a decent CD retrospective – well all of that ends with this superb EMI mini-box set which puts 7 albums (plus 1 remixed version) and 3 single sides onto 4CDs – and all of it with great remastered sound.
The 8-page booklet is a fairly functionary affair with a small history of the albums taken from a 1998 Documentary for BBC Scotland. It gives a track-by-track list and pictures some album covers and rare European 7" picture sleeves. A nice touch is that Discs 1 and 2 are coloured with the Green Chrysalis label while 3 and 4 are Blue - reflecting the original vinyl issues. Beneath the two see-through CD trays are pictures of each album with the production credits below the picture. It's good, but hardly great.


Editorial Reviews / www.amazon.com

Frankie Miller...That's Who! Is a 4CD retrospective of Frankie Miller's studio recordings - collecting together the seven studio albums that Frankie recorded for Chrysalis Records between 1973 and 1980. Having collaborated with, or had his songs covered by, artists as diverse as Thin Lizzy, UFO, Robin Trower, Ray Charles, The Eagles, Bob Seger and Cher, among many others, this versatile singer and songwriter has successfully applied himself to everything from soul and blues, to hard rock and country. * Once In A Blue Moon (1973) debut album firmly established the Glaswegian's song writing and singing credentials, ably backed by Brinsley Schwarz. * High Life (1974) the follow up to 'Once in A Blue Moon' was apparently remixed and released by Chrysalis without Frankie, or Allen Toussaint (producers) consent; this release includes the whole of the previously unreleased original mix, available for the first time. * The Rock (1975) inspired by Alcatraz prison close to where the album was recorded in San Francisco, was produced by Elliot Mazer, famed for his work with Neil Young and Joni Mitchell, among others. The album features two of his best know tracks, 'A Fool In Love' and 'Ain't Got No Money'. * Full House (1977) was produced by Chris Thomas (Sex Pistols, Roxy Music, Pink Floyd), and features his singular take on John Lennon's 'Jealous Guy', as well as songs with long term collaborators Robin Trower and Free's Andy Fraser. * Double Trouble (1987) With Jack Douglas at the helm, the harder rock should come as no surprise, not least for a guest appearance from Aerosmith's Steve Tyler, as well as a fruitful writing partnership with Paul Carrack (Ace, Squeeze & Mike + The Mechanics). * Falling In Love (1979) (titled A Perfect Fit for its American release) features Frankie's biggest hit single, 'Darlin'', as well as his buoyant cover of Bob Marley's 'Is This Love'. * Easy Money (1980) was his last long player for Chrysalis Includes previously unreleased versions of 'Loving You Is Sweeter Than Ever' and 'I'm Old Enough', and his version of Randy Newman's 'Sail Away'.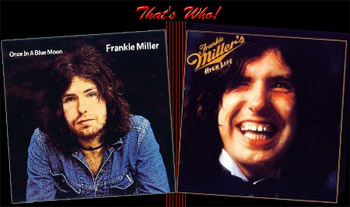 CD 1 • Total time: 01:09:16
Tracks 1 to 10 are his debut album "Once In A Blue Moon"
released January 1973 in the UK and USA on Chrysalis CHR 1036
Tracks 11 to 22 are his 2nd studio album "High Life"
released January 1974 in the UK and USA on Chrysalis CHR 1052
01. You Don't Need To Laugh (Frankie Miller) 3:41
02. I Can't Change It (Frankie Miller) 3:11
03. Candlelight Sonata in F Major (Frankie Miller) 2:39
04. Ann Eliza Jane (Frankie Miller) 3:05
05. It's All Over (Frankie Miller) 2:40
06. In No Resistance (Frankie Miller) 3:03
07. After All (Live My Life) (Frankie Miller/J. Doris) 3:48
08. Just Like Tom Thumb's Blues (Bob Dylan) 4:16
09. Mail Box (Frankie Miller) 3:17
10. I'm Ready (Willie Dixon) 3:18
11. High Life (Allen Toussaint) 1:00
12. Play Something Sweet (Brickyard Blues) (Allen Toussaint) 3:39
13. Trouble (Frankie Miller) 3:31
14. A Fool (Allen Toussaint) 2:59
15. Little Angel (Frankie Miller) 3:27
16. With You In Mind (Allen Toussaint) 3:22
17. The Devil Gun (Frankie Miller) 3:43
18. I'll Take a Melody (Allen Toussaint) 4:39
19. Just A Song (Allen Toussaint) 2:51
20. Shoo-Rah (Allen Toussaint) 2:50
21. I'm Falling In Love Again (Frankie Miller) 3:59
22. With You in Mind (Allen Toussaint) 1:00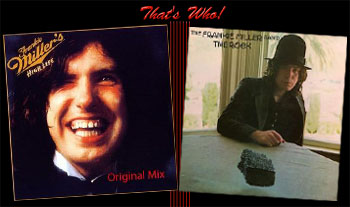 CD 2 • Total time: 01:18:50
Tracks 1 to 11 are "High Life - The Original Mix" - this is a previously
unreleased version of the album with the running order re-arranged
Tracks 12 to 21 are his 3rd studio album "The Rock"
released September 1975 in the UK on Chrysalis CHR 1088
01. Play Something Sweet (Brickyard Blues) (Allen Toussaint) 3:41
02. Trouble (Frankie Miller) 3:34
03. Little Angel (Frankie Miller) 3:27
04. With You In Mind (Allen Toussaint) 3:24
05. I'll Take A Melody (Allen Toussaint) 4:39
06. High Life (Filler) (Allen Toussaint) 2:06
07. Shoorah Shoorah (Allen Toussaint) 2:58
08. The Devil's Gun (Frankie Miller) 3:43
09. A Fool (Allen Toussaint) 2:59
10. I'm Falling In Love Again (Frankie Miller) 4:01
11. Just A Song (Allen Toussaint) 2:52
"The Rock" (1975)
12. A Fool in Love (Frankie Miller/Andy Fraser) 3:10
13. The Heartbreak (Frankie Miller) 4:03
14. The Rock (Frankie Miller) 3:34
15. I Know Why the Sun Don't Shine (Frankie Miller) 6:01
16. Hard on the Levee (Frankie Miller) 3:18
17. Ain't Got No Money (Frankie Miller) 2:05
18. All My Love To You (Frankie Miller) 5:39
19. I'm Old Enough (Frankie Miller) 4:52
20. Bridgeton (Frankie Miller) 4:48
21. Drunken Nights in the City (Frankie Miller) 3:52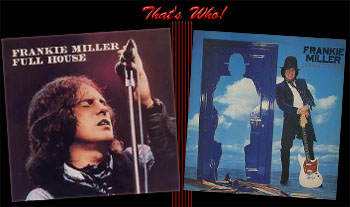 CD 3 • Total time: 01:18:24
Tracks 1 and 2 are "Loving You Is Sweeter Than Ever" and "I'm Old Enough",
the A & edited B-side of an August 1976 UK 7" single
on Chrysalis CHS 2103 (Previously Unavailable on CD)
Tracks 3 to 12 are his 4th studio album "Full House" released
August 1977 in the UK on Chrysalis CHR 1128
Tracks 13 to 22 are his 5th studio album "Double Trouble"
released April 1978 in the UK on Chrysalis CHR 1174
01. Loving You Is Sweeter Than Ever (Hunter/Wonder) 3:35
02. I'm Old Enough (Frankie Miller) 3:34
03. Be Good To Yourself (A. Fraser) 3:02
04. The Doodle Song (Frankie Miller) 2:49
05. Jealous Guy (John Lennon) 4:44
06. Searching (P. Knight/B. Johnson) 3:49
07. Love Letters (V. Young. Hayman) 3:01
08. Take Good Care of Yourself (J. Doris) 3:16
09. Down the Honky Tonk (Frankie Miller) 3:10
10. This Love of Mine (Frankie Miller) 3:49
11. Let the Candlelight Shine (Frankie Miller) 3:00
12. (I'll Never) Live in Vain (Frankie Miller) 2:57
13. Have You Seen Me Lately Joan (Frankie Miller) 2:15
14. Double Heart Trouble 3:23
15. The Train (Frankie Miller/Paul Carrack) 3:56
16. You'll Be In My Mind (Frankie Miller/Paul Carrack/Douglas Russell) 3:34
17. Good Time Love (Frankie Miller/Paul Carrack) 5:00
18. Love Waves (Frankie Miller/Paul Carrack) 2:58
19. (I Can't) Break Away (Frankie Miller/Paul Carrack) 4:23
20. Stubborn Kind Of Fellow (Gaye/Stevenson/Gordy Jr.) 3:08
21. Love Is All Around (Andy Fraser) 4:53
22. Goodnight Sweetheart (Noble/Campbell/Connelly) 3:59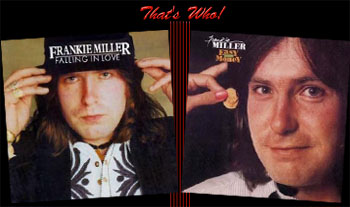 CD 4 • Total time: 01:16:38
Tracks 1 to 11 are his 6th studio album "Falling In Love"
released January 1979 in the UK on Chrysalis CHR 1220
(it was called "A Perfect Fit" in the USA)
Tracks 12 to 21 are his 7th studio album "Easy Money"
released July 1980 in the UK and the USA on Chrysalis CHR 1268
Track 22 is "Sail Away" (a Randy Newman cover) - a non-album B-side
to the November 1977 UK 4-Track 7" EP "Alveric's Elfland Journey"
(Previously Unavailable on CD)
01. When I'm Away From You (Frankie Miller) 3:25
02. Is This Love (Bob Marley) 2:54
03. If I Can Love Somebody (John Hiatt) 2:48
04. Darlin' (Blandamer) 3:09
05. And It's Your Love (Frankie Miller) 3:57
06. A Woman To Love (Frankie Miller) 3:29
07. Falling In Love With You (Frankie Miller) 4:38
08. Every Time A Teardrop Falls (K. Chater/D.L.A. Foxworth) 2:38
09. Papa Don't Know (Frankie Miller) 3:42
10. Good To See You (A. Taylor) 5:01
11. Something About You (B. Hollandi. Dozier/E. Holland) 2:58
12. Easy Money (Miller/Setser/Seals) 3:21
13. The Woman In You (Miller/Seals) 3:10
14. Why Don't You Spend The Night (McDill) 3:12
15. So Young, So Young (Camilleri/Sachese/Burstin) 3:34
16. Forget About Me (Miller/Setser/Seals) 3:21
17. Heartbreak Radio (Miller/Seals) 3:23
18. Cheap… Thrills (McDill) 3:14
19. No Chance (Martin) 3:01
20. Gimme Love (Miller/Setser/Seals) 3:01
21. Tears (Miller) 3:32
22. Sail Away (Randy Newman) 4:53
(EP B side 1977– previously unavailable on CD)